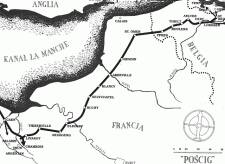 click on map to enlarge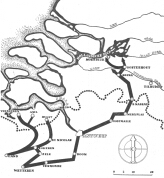 click on map to enlarge

On the 6th of September around noon the 1st Polish Armoured Divison crossed the French-Belgian border in two places. From the bordingplace Abele the northern column followed the route along Poperinge and Vlamertinge to Ypres. The southern column crossed the border near Westouter and then marched along De Klijte and Dikkebus to Zillebeke.

In doing so Ypres was encircled and in the evening of September 6 the town had been liberated. Twelve Polish wargraves were the dearly-paid sign for the town, which was laid in ruins during the First World War.

On the 7th of September they marched again in 2 columns. Into the direction of Roeselare this time. One column along Sint-Jan, Hooglede and Gits, another along Zonnebeke and Passendale. The town of Roeselare fell into Polish hands in the evening, but 8 Polish soldiers lost their lives in action.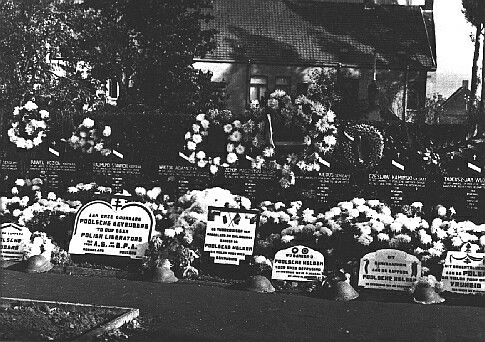 Polish War Graves at Roeselare
The campaign was continued and on the 8th of September they reached Tielt, where again eight lives were lost. After that they marched into northern direction again. Near Ruisselede a heavy fight took place, in which 3 Poles lost their lives.

On the 9th of September they reached the town of Aalter, situated along the canal Brugge-Gent. Aalter was liberated, but they didn't succeed in crossing the canal on September 10. The sad result was 16 casualties on Polish side.

After that they changed their direction: they marched to the west. On September 12, 13 and 14 the northern outskirts of the town of Gent had to be cleared from the German occupants.

At the same time part of the 1st Polish Armoured Division marched to Lokeren and Sint-Niklaas in order to take the place of other allied units and to clear the region.

After that, on September 14, Beveren and Sint-Gilles-Waas were liberated. The last places, liberated on Belgian ground, were Stekene, where 6 Polish soldiers were killed; and on September 17 the village of de Klinge, where another 4 Poles lost their lives.

The quick march through Belgium demanded a lot of losses for the Division, because the Germans tried to prevent the advantage by short slackening actions.

After the campaign through Belgium the Poles set foot on Dutch ground for the 1st time on the 16th of September 1944.

See [the battle of the Axel-Hulst canal]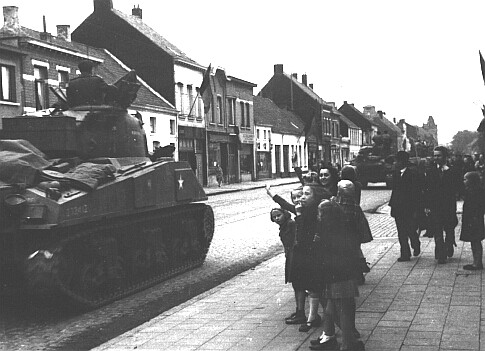 Advance of Polish troops trough Wijnegem, Belgium


After the battles of Axel-Hulst the Poles got a short rest in Northern Belgium. The next job was to liberate [Merksplas and surroundings]

Literature:
The fast advance is descripted in the Dutch language in the books:

Ze zijn daar authors: Roger Quaghebeur and Roger Verbeke. ISBN 90-5508-022-5

Aalter in september 1944 author: Maurice Thys, 1982, Aalter

In the English language:
With the tanks of the 1st Polish Armoured Division written by K. Jamar and published in 1946 by H.L. Smit & Zn. at Hengelo, the Netherlands